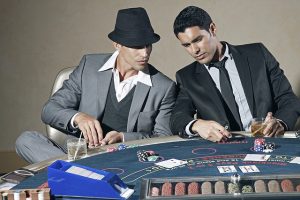 A poker tournament is a competition where players play against each other with the ultimate objective of accumulating all the chips. Unlike a normal casino poker game where you can quit and leave when you want, in poker tournaments, the play continues till one player has gathered all the chips.
There are different kinds of poker tournaments to choose from:
Elimination Poker Tournaments are the most common and popular type of poker tournaments. Each poker player starts with the same amount of chips and play will simply continue until one player has accumulated all the chips. As players get eliminated, groups become smaller and active players change seats into the fewer and fewer tables.
Rebuy Poker Tournaments are structured to give players more time and opportunity. Players who lose all their chips are allowed to "rebuy" more chips and continue playing. Rebuy tournaments have players that play more aggressive in the early part of the poker tournament. Even if they lose all their chips they will not be eliminated as they get the opportunity to rebuy the chips.
Shootout tournaments are designed such that the tables will not be reduced or combined as players get eliminated. Each table will continue playing till it has a single winner. Finally, winners of each table will play against players of another table later on.
Satellite Poker Tournaments are the preliminary or mini poker tournaments. All the players entering the tournament will give an equal share of money to enter. For example before the start of a tournament that has entering costs of a $1000 ten players will battle it out with entering costs of $100 each. The winner will advance to the $1000 dollar entering cost poker tournament.
 Super Turbo – The levels are much faster. Instead of 20+ minutes, they're something like 3-10 minutes. This requires a big change in strategy. And the faster the blinds the more luck that's involved
Guarantee — This is any tournament in which a prize pool is guaranteed, no matter how many players show up. This is fantastic because if the players do not make up the prize pool, the pool will. This is called an overlay.